Yahalom MD Launched by Agudah Maryland as a New Collaborative
Resource for The Special Needs Community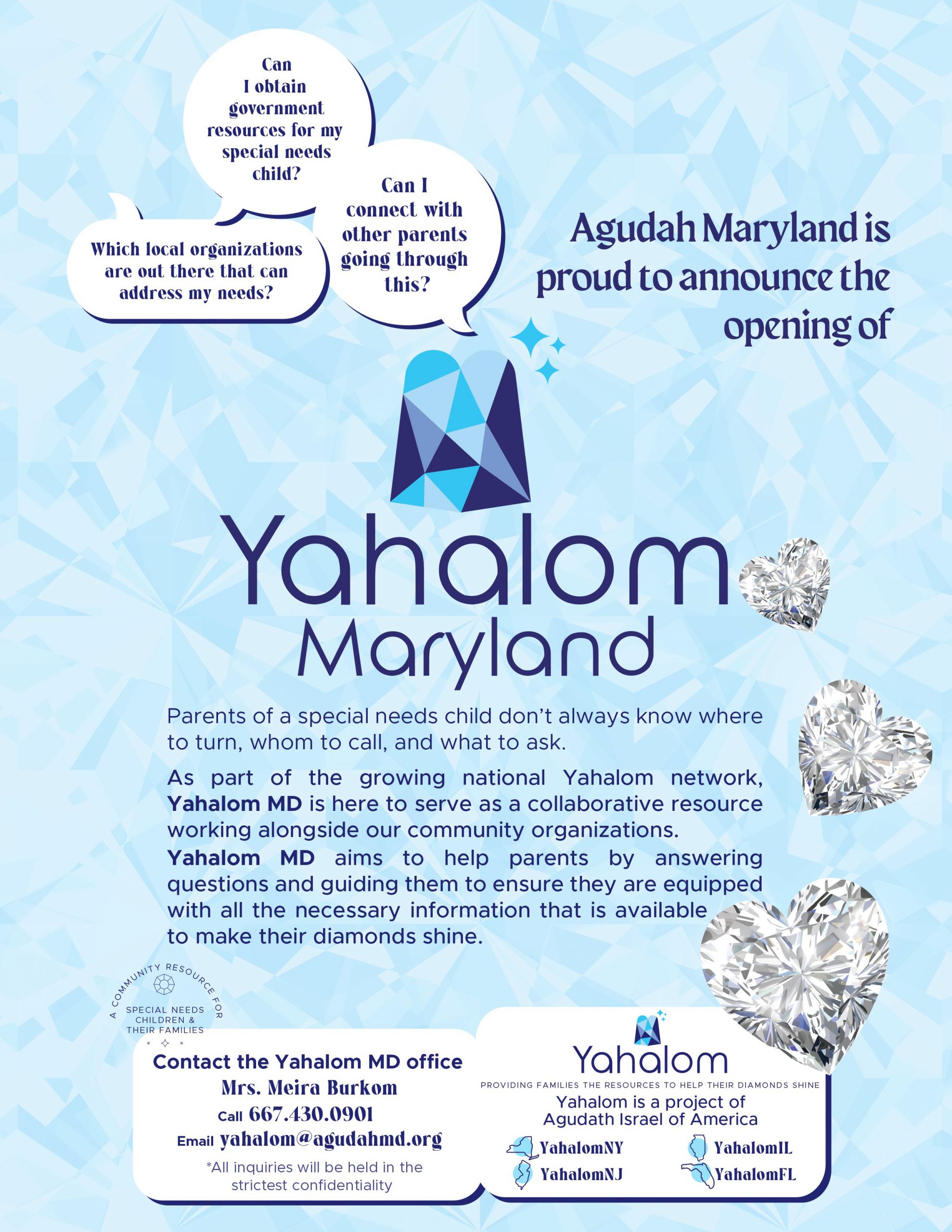 Dealing with the government while being the parent of a child with special needs can sometimes seem overwhelming. Parents share the "battle scars" of trying to navigate the ever-confusing world of services and resources that are potentially available to them via government grants, national foundations, or local organizations. For many years, parents had to navigate this maze on their own, with limited guidance or familiarity.
Two and a half years ago, in ​Lakewood, NJ, a new division of Agudath Israel of America ​called Yahalom​ was launched in conjunction with a parent committee of those with special needs children. Yahalom believed that each child is a diamond, precious as a jewel, and offered its help in helping families make their diamonds shine. Upon the initial Yahalom launch in Lakewood, calls began streaming in from all across the national landscape. Yahalom began to spread, as division offices were opened in New York, in Chicago, and (most recently) in Florida. 
In our state and region, the Agudah Maryland office has been a frequent contact of individuals, families, and local organizations seeking assistance on a host of different and varied issues, especially those relating to government assistance and advocacy within government agencies. Since the launch of Yahalom in New Jersey, many people have reached out to the Agudah Maryland office asking for the creation of a Yahalom chapter here in Maryland. There was initial reluctance to do so, in light of the many wonderful organizations geared to helping the families of those with special needs.  
However, over the last several months, extensive efforts were made to gather input from the existing organizations and within the many unofficial chat groups where people shouldering these burdens are active. It was made abundantly clear that our community would benefit from the creation of a similarly focused coordinator position. A benefit of the Yahalom coordinator model is that no new organizations need to be launched.  Yahalom MD will operate within the Agudah Maryland office, reaching out to the state departments of health, disability, education, and social services, where key relationships are already in place.  Yahalom MD will be focused on being a collaborative force with all of the existing offerings in our community, harnessing the services they provide, and identifying the areas which need more focus.  Yahalom MD will also coordinate its work with the other Yahalom coordinators across the country.
Additionally, Yahalom MD has already been in communication with numerous parent groups, whose children's needs don't fit into the need-structure of our local organizations.  Upon hearing of the Yahalom conversation, they came and reached out to Agudah Maryland, wanting to identify under the Yahalom umbrella, due to its willingness to engage with all types of special needs and its national reputation and progress record.  A Yahalom MD committee is in formation.  
Yahalom MD is here to assist those parents obtain the appropriate resources by guiding, educating, and empowering parents to ensure they have the help and support they need and to reassure them that they are not alone!  
To contact Yahalom MD and its coordinator, Mrs. Meira Burkom, please call 667-430-0901, or email yahalom@agudahmd.org. 
To visit National Agudah's Yahalom site, please click here.