Two Of Our Community's State Legislators Take Up The Fight
(As seen on BaltimoreJewishLife.com on 2/14/2023) – In the ever-busy lives of Orthodox Jewish day school parents, few items occupy the collective focus like that of school transportation. Whether one has children attending only one school or children attending multiple schools, trying to arrange who gets where and when is a formidable challenge for even the most organized homemaker. And while the MTA (Maryland Transit Administration) does offer the "92 Route" bus option for the larger schools that are slightly more distant from the general community, a variety of reasons makes this option somewhat less practical for the majority of households who instead choose carpool (whether they drive their turn or hire someone) as their means of school transportation.
A recent survey conducted by Agudah Maryland of families with children enrolled in the "MTA schools" (TA, TI, and Bais Yaakov) found that only ten percent of households viewed the MTA as their choice for school transportation, and almost seventy percent of parents reported that the strain of ineffective school transportation has caused either "significant stress", a noticeable increase in financial output, or employment-related challenges.
In addition to the aforementioned struggles, the swell of vehicles on the community roads during carpool rush hour in the morning (and, to a lesser extent, the afternoon) causes indescribable challenges for all commuters, most notably the traffic delays and the not-so-infrequent episodes of fender-benders.
To some, beyond what happens on the roads is what is happening to the environment. The non-commercial vehicles most effective in transporting a dozen or so kids at one time do not yet offer a "green option", consume enormous amounts of gas, and when idling in traffic during carpool rush hour are definitely NOT improving air quality. In the future, when theses oversized vehicles will become environmentally friendly their price tag will likely be out of reach to most households.
While a variety of efforts to address this issue have been put forth over the last number of years, a brand new legislative effort currently underway in Annapolis is giving people newfound optimism.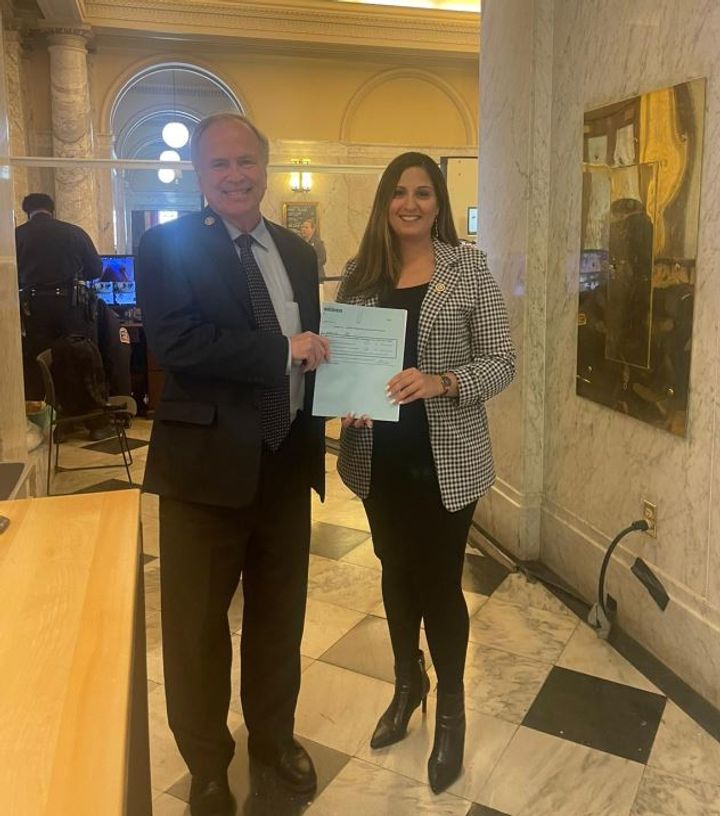 House Bill 486, sponsored by Delegates Dalya Attar (district 41) and Dana Stein (district 11), and its cross-filed Senate Bill 324, sponsored by Senator Jim Rosapepe (district 21), would provide a state tax credit of up to $1,500 per student to refund a household's output for school bus transportation expenses.
As drafted, schools or a system of schools would arrange bus transportation for their students and the Maryland resident paying for its use would be entitled to claim a credit of the amount paid up to $1,500 per school student.
As a tax credit, this proposal would join dozens of other comparable programs and initiatives that tap into state tax revenues, but the short- and long-term gains of such a program undoubtedly deem it worthy of becoming law.
Delegates Attar and Stein share their feelings on the bill.
Delegate Attar: "As a parent and a community member, I know firsthand the struggles we experience with carpools.  School busing is a necessity – for our safety along with environmental and practical reasons. I therefore have sponsored this bill and have taken it upon myself to fight to make this the law in Maryland.  Although this will not be an easy task, this bill is a very important first step, and I look forward to continuing the fight."
Delegate Stein: "Relief from the challenges of carpooling students to and from school is a top priority for me and my constituents.  Our bill to provide tax credits for parents will enable schools to provide a school bus transportation program, and in the process will provide carpool relief for families and help reduce traffic congestion.  Maryland would be joining the many other states that provide transportation support for all students."
Rabbi Ariel Sadwin of Agudah Maryland said that his office's efforts over the years to address the challenges of school transportation have led them to look at the numerous models of nonpublic school transportation that exist in communities across the country. Despite all that, the conversations with Delegates Attar and Stein, and their conversations with their colleagues in legislative leadership led to embracing the tax credit model found in this bill, a fairly unique approach to the topic. Rabbi Sadwin commented, "Our primary goal is to enact a program that provides the flexibility needed to make bus transportation work effectively throughout our neighborhoods and to all of our schools. We applaud the ingenuity of the tax credit model proposed by Delegates Attar and Stein, and we truly hope the effort sees success in its first legislative session, to begin bringing relief to the families in our community."
Please be on the lookout for updates and action alerts on the progress of House Bill 486 and Senate Bill 324, as they make their way through the Maryland General Assembly.